Up to May 15th, 2022, Vietnam's shrimp export value to Canada had reached 100 million USD, up by 87% compared to the same period last year.
Within CPTPP, Canada is the third-largest importer of Vietnamese shrimp, making up 22% of Vietnam's total shrimp export turnover into this market block. Also, Canada stands in 6th position for the single market importer, accounting for 6,3% of Vietnamese shrimp export to all markets.
After CPTPP came into effect in 2019, Vietnam's shrimp export to Canada in 2020 reached 187 million USD, an increase of 23% from 2019. In 2021, this figure was recorded at 18% compared to 2019. Up to the first half of May 2022, shrimp export from Vietnam to Canada had recorded a growth rate of 87% compared to 2021's same period - the highest growth rate in comparison to other markets in the CPTPP block.
According to Internation Trade Center (ITC), in the first three months of 2022, Canada's total shrimp imports reached 161 million USD, up by 31% compared to the same period of 2021. India is the largest shrimp supplier for Canada, accounting for 27% of the whole market share. It is followed by Vietnam, China, Thailand, and Ecuador. Among all the shrimp suppliers to Canada in these first three months, Ecuador's shrimp export to Canada witnessed the strongest growth.
In recent years, Canada has consumed a lot of warm-water shrimp from Southeast Asian countries in the context of a decrease in the supply of cold-water shrimp. This can be considered a favorable factor for Vietnam's shrimp exports to Canada.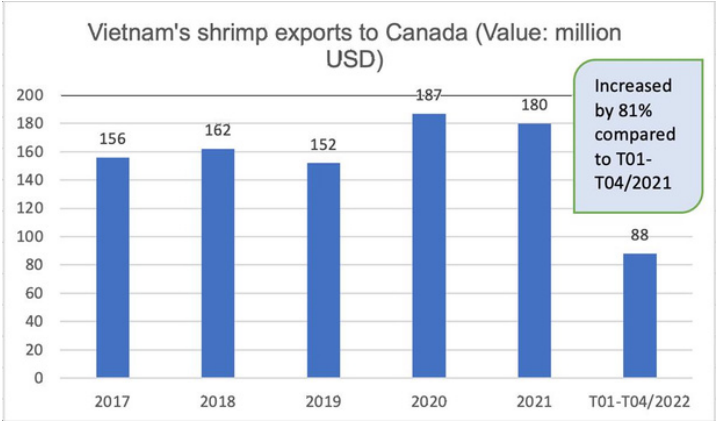 Canada has a policy of welcoming immigrants every year, in which the Asian immigrant group accounts for a high percentage. They are very fond of seafood including shrimp. Businesses can exploit this group of potential customers with diverse needs.
Also, the Canadian market applies no export quota, Canadian and Vietnamese seafood products are more reciprocal than direct competition. As Canada and the US trade accounts for 75% of Canada's total import-export turnover, products imported into Canada can have easy access to the US market and vice versa.
Source: vasep.com.vn